By Randy Palmer
July 3, 2022
Moose Jaw improves season-series record to 5-1 with 10-7 victory at Ross Wells Park
The Moose Jaw Miller Express might have had to go deep into their bullpen to secure a win over the Regina Red Sox in Western Canadian Baseball League action on Saturday night, but with the way their bats have been going, it wasn't much of a concern.
The Miller Express offence hit double digits in runs for the third straight game and would hold off a late Regina surge to take a 10-7 victory at Ross Wells Park.
Unlike recent contests that saw big innings play a major role in their success, Moose Jaw simply chipped away this time around — a run in the first and two in the second made it 3-0 early, three more in the fourth and a pair of runs each in the fifth and sixth made it a 10-4 edge through six.
The Red Sox would score three runs in the final three innings to make things a bit interesting but would get no closer.
All but one Miller Express starter had a hit in the contest, with Dawson Tweet putting together one of his best games at the plate this season with a 2-for-3 night that included a double, three runs and an RBI.
Parker Dorrance had a 2-for-3 day that included a pair of RBI, while Zach Campbell and Michael Speck knocked in two runs each.
The Express would go through seven pitchers on the mound, beginning with starter Nick Hill tossing three innings and allowing a run on three hits and four walks while striking out three.
Newcomers Liam Sommer and Cameron Dunn each made their second appearance with scoreless innings of work before Triston Seitz allowed three runs on three hits in the fifth.
Jesse Scholtz made his league-leading 20th appearance of the season in the sixth and allowed his first earned run since back on June 18, covering 14 scoreless innings of relief in that span.
Kaleb Waller then allowed two runs on two hits in the eighth before giving way to Reece Helland, who recorded the final six outs and struck out three in the process.
Moose Jaw is now 20-8 on the season and has moved five games up on Swift Current for first place in the East Division.
The Miller Express had a rare Sunday off, but are back in action on Monday when they travel to Swift Current to face the 57's. Next home action is Tuesday against the Lethbridge Bulls. Game time is 7:05 p.m. at Ross Wells Park.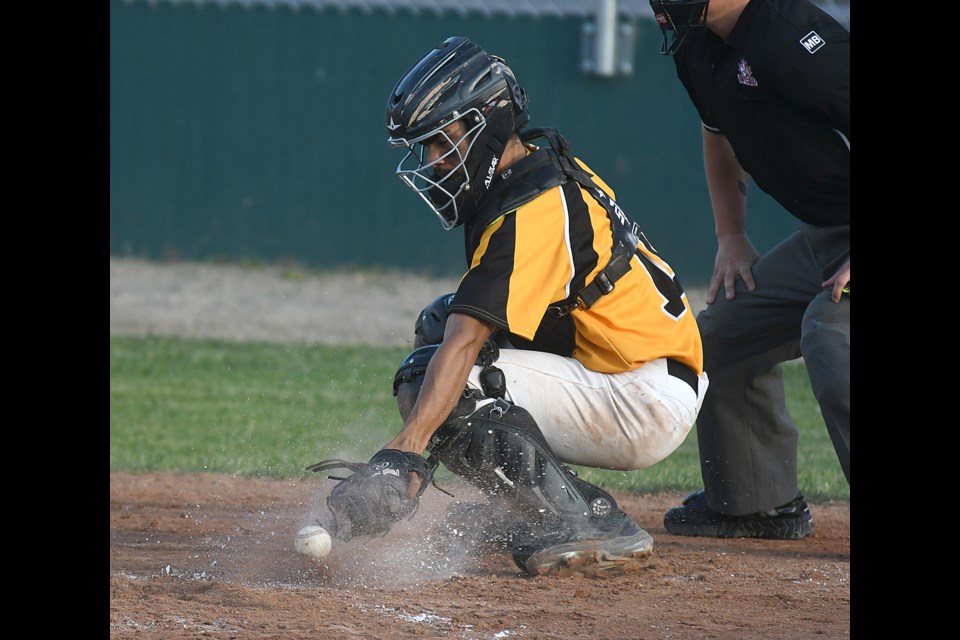 Photos by Randy Palmer
VIA: https://www.moosejawtoday.com/local-news/miller-express-continue-mastery-of-red-sox-with-comfortable-win-5542988