By Randy Palmer
August 8th, 2022
Voggesser delivers another quality start, Miller Express strike for plenty of insurance runs late in 9-2 victory at Ross Wells
All season long, it was pretty much the same any time Moose Jaw Miller Express starter Kellan Voggesser took the mound.
Toe the rubber, throw strikes all night, rack up a quality start and do it all again the next time.
Monday night at Ross Wells Park, Voggesser came up as sharp as always in his biggest appearance of the season. He'd hold the Swift Current 57's to only two runs over six innings of work as the Express went on to a 9-2 win in Game 1 of their Western Canadian Baseball League East Division semifinal.
All told, the WCBL all star would cap the evening by allowing only six hits and striking out 10 to pick up the win.
"I just wanted to go out and give the guys a shot to win the game tonight," Voggesser said. "I tried to throw as many strikes as I could to keep us in the game, and then I got picked up by the offence and got the dub, so it's pretty sweet."
The quality start — three runs or less over six innings — was his seventh in 10 starts this season, and wasn't all that different than the others. Good fastball location got him ahead in counts and once there, his breaking stuff helped finish things off.
"My fastball was pretty good today, and everything else was going pretty well," Voggesser said. "I was able to keep them pretty off-balance, so it was good,"
Seeing the Doane University product get the job done once again was of no surprise to Miller Express coach Eric Marriott.
"Vog was great," he said. "He came in here and did what he's done all season long. He was our number one guy at the beginning of the year and he was our number one guy tonight and he proved it tonight why that was. And then our bats did what we expected and carried us like they did all season."
Zach Campbell got the offence going in the first inning, drawing a lead-off walk, going to third on a single by Cam Grant and scoring on a long sacrifice fly by Nate Mensik.
Things settled into a pitcher's duel between Voggesser and Swift Current's Kenny Jinks before the Express were able to strike again in the third, with Mensik showing no ill effects from getting hit in the ankle by a pitch, going first-to-home on a double by Bryan Reyes to make it 2-0 Moose Jaw.
Campbell picked up his second hit of the game in the fourth, and this time it brought home Joe Osborn to put the Express ahead by three. One batter later, Luke LaChance scored on a wild pitch to make it a 4-0 lead.
Swift Current got two back in the top of the fifth, thanks to a hit by pitch and a pair of singles, but that would be all the damage Voggesser would take on the night.
Liam Sommer took over on the mound in the seventh and little changed, as he'd toss a perfect inning, retiring Swift Current in order and recording a strikeout.
The Express tacked on two more runs in the bottom of that frame, but it was it was in the bottom of the eighth that the big bomb of the night took place. Cam Grant took a 1-1 offering from 57's reliever Brandon Byler over the centrefield fence to give the Express a 9-2 lead.
That was more than enough for Reece Helland to finish things off, as he capped his two innings of work allowing three hits and striking out four.
Campbell finished the night 3-for-4 with three runs scored.
Now, it's right into Game 2 in Swift Current on Tuesday night, with Voggesser as certain as he could be that the troops will get the job done and move on to the East Division final.
"We feel really confident right now, we think we can be a great playoff team," Voggesser said. "Our sticks are just insane, they pick us up all the time and I think that's going to set us up really well for the rest of the post-season."
Cameron Dunn will get the start for Moose Jaw, with first pitch at 7:05 p.m. You can follow along with all the action on www.westerncanadianbaseballleague.ca.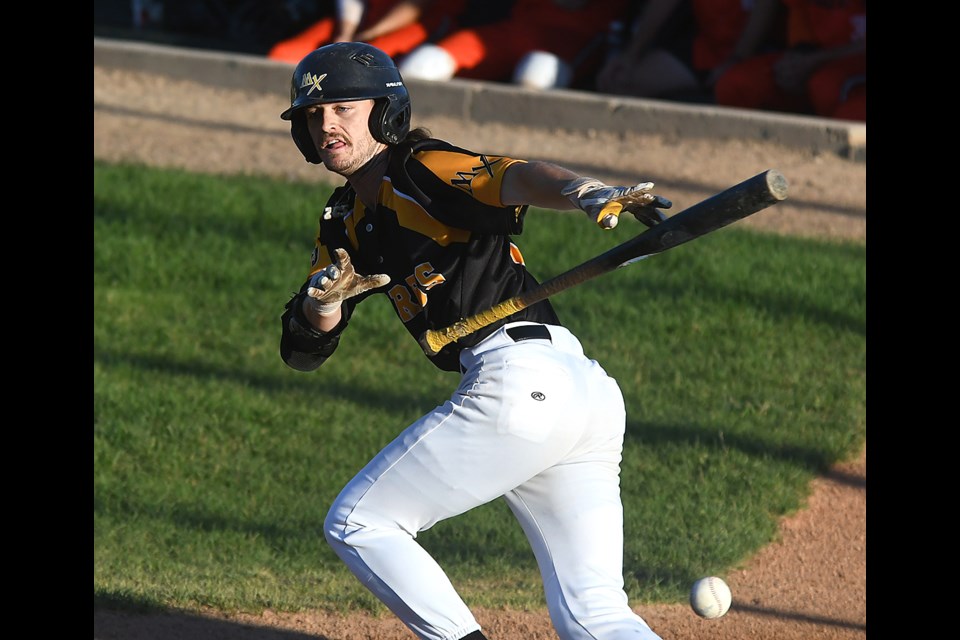 VIA: https://www.moosejawtoday.com/local-news/miller-express-open-playoffs-with-comfortable-win-over-swift-current-5674434